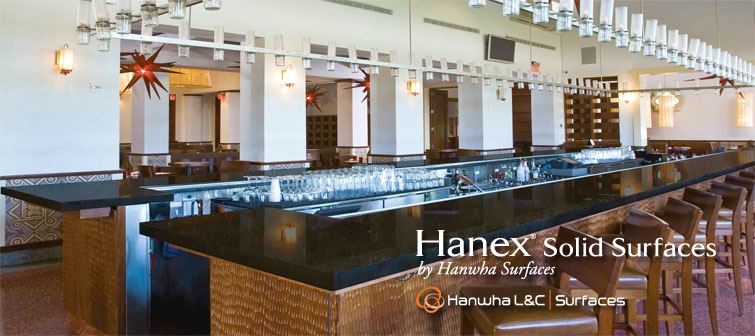 Solid Surface Countertops - With its breakthrough stain-, impact-, and heat-resistance properties, and 78 colors and patterns – Hanex Solid Surfaces is ideal for both commercial and residential applications. They're easy to care for, too. The surface is non-porous and NSF Certified. With periodic maintenance – just a quick wipe down with a damp cloth – Hanex Solid Surfaces maintains its original beauty for years. Most importantly, Hanex Solid Surfaces can be repaired and restored to its original condition, unlike other surfacing materials.
Enjoy the benefits of this richly colored, durable, seamless surface that is also:
Available in 78 rich colors and textures
Easy to fabricate and install with inconspicuous seams
Scratch and stain resistant – easily maintained
Highly durable - stronger than stone
Resistant to heat, mold, chemicals, pollutants and bacteria
Environmentally friendly – renewable and repairable
Safe – tested and certified by the National Sanitation for Food Safety and Food Contact under the NSF 51 Certification
Backed by a 15 year Residential Warranty and a 10 Year Commercial Warranty
GREENGUARD Indoor Air Quality Certified®
GREENGUARD for Children & Schools℠
Hanex Solid Surfaces are also easy to work with; can be bent and shaped during fabrication, and cut onsite with most standard saws. The wide variety of colors and patterns provide the characteristics that make it the perfect choice: an attractive, affordable, contemporary surface that can stand up to heavy traffic and day-to-day use.
That's why Hanex is the choice of Solid Surface for Surfaces Group, LLC.