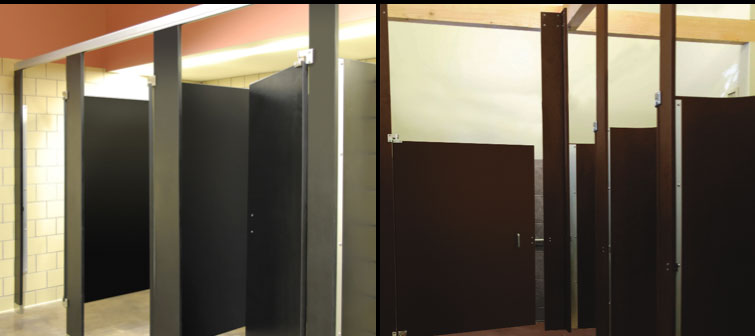 Surfaces Group, LLC is proud to announce the first sustainable privacy partition constructed of LEED supportive paper composite panels. Eco-Screen™ made with PaperStone® and Richlite® is available in a variety of exciting colors. Experience its low luster, warm texture and its remarkable resistance to graffiti, impact, mildew and bacteria. It has all the performance positives of a natural phenolic resin while utilizing recycled and rapidly renewable materials. It is ideal for restroom partitions.
Eco-Screen™ will look great for years to come as the surface is easily maintained and is covered by the manufacturer's
10 year warranty.
PaperStone® and Richlite® are sustainable materials from source to manufacture and distribution. Using Eco-Screen™ can contribute to the California Collaborative for High Performance Schools (CHPS) and LEED certification points for:
• Recycled content
• Materials manufactured locally or regionally
• Rapidly renewable materials
• Certified wood materials
• Materials that emit low or no volatile organic compounds.
Eco-Screen™ ensures long service life with PaperStone® and Richlite® and our proprietary bullet-proof (meaning kid-proof and vandal hardened) hardware components. With Eco-Screen™ you can reach far beyond conventional square and rectangular forms. Go ahead and add contours, colors or inlays to the design. Incorporate Eco-Screen™ as lavatory furniture that makes restroom design equal to the rest of the design and provides more than simple privacy.