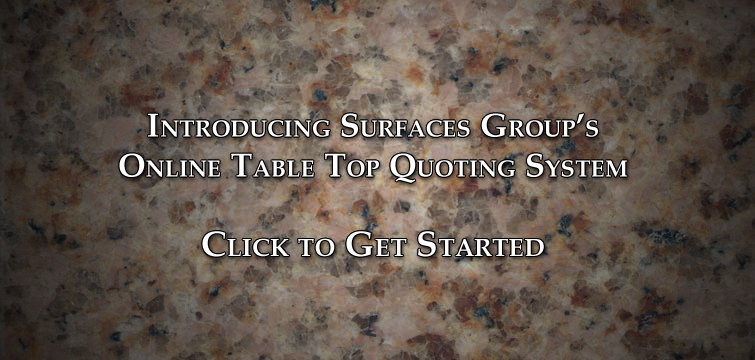 <
Introducing the Surfaces Group Online Table Top Quoting System
Discover an online quoting system where the necessary categories and options are all at your fingertips.
Getting a Quote
Enter the Online Quote System by clicking here.
After entering the Online Quoting System you will find the ability to Choose a Shape, Enter Your Desired Table Top Dimension(s), Select a Material and Material Thickness. Wish to add bases for your table top? Simply check the button and choose your base options.
Quote Summary
An added feature is our Quote Summary. Make your selections and quickly preview your specs as well as an estimate of cost.
To Get Started with your new table top quote click here.
When selecting Natural Stone Tabletops, you can look at the different types, finishes, appearances, thicknesses and textures, which make up the beauty of natural stones. One great thing about natural stone is that no two stones are alike, making every single tabletop one of a kind. There are many forms of natural stone that consumers can choose from: granite, marble, soapstone, slate and more.
One reason why natural stone is a favorite for a tabletop is that the finishes applied add on to the beauty and durability. Some popular natural stone finishes are polished, honed, flamed and tumbled.
Granite & Marble – Considered second to diamonds in hardness, granite is the most popular choice. Granite is chosen for durability and its rich composition of quartz crystals, mica, and feldspar trapped within. Chosen for its smoothness and vein-like textures, marble is added to a section of a whole countertop by those who like to bake. Both granite and marble give off different appearances compared to other natural stone products, which is why they are popular.
Standard Tabletop Sizes: 24", 30", 36", 48" (round and square), 30x72, 36x72, 48x72, 48x96.
Standard Tabletop Thickness: 1/2" to 1 1/2"
Standard Edge finishes: Laminated bullnose, Full bullnose, Half bullnose, Eased edge, Ogee edge, Dupont edge etc.
Custom Tabletops: Almost any custom size is available.