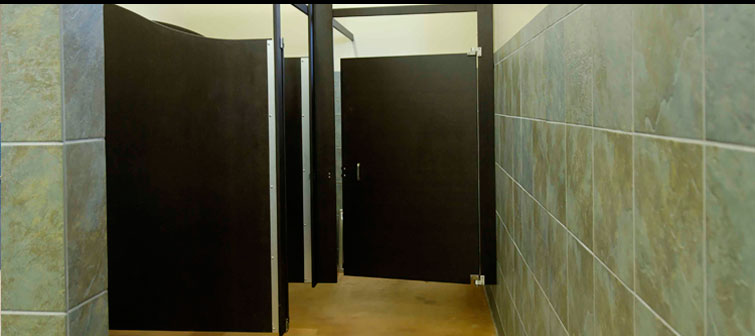 Eco-Screen™ Toilet Compartment — Suggested Specification Form
Division 10-Specialties — Section 102113 (Toilet Compartments)
To download file, right-click on link below and select "Save Link As..."
Download: Toilet Compartment - Specification Form

SCOPE OF WORK
Provide Eco-Screen™ head rail braced toilet compartments as shown on the drawings and specifications herein:
MATERIALS
Eco-Screen™ toilet compartments shall be supplied by Surfaces Group, LLC (#866-896-1127), and shall incorporate LEED supporting paper composite sheet product as the panels and shall be provided in accordance with approved shop drawings. Color shall be (specify) ______________. Panel material must be made from a paper composite that uses FSC certified post-consumer recycled paper or virgin fiber, and/or has been approved by the SmartWood and the Rainforest Alliance. Compartments will be fabricated and detailed in accordance with approved shop drawings.
SHOP DRAWINGS
Prior to fabrication, the contractor shall solicit, furnish and submit detailed signed shop drawings for the approval of the architect/designer, showing accurate dimensions and details of all Eco-Screen™/Paper composite compartment products. All drawings furnished by Surfaces Group, LLC must be signed off on by contractor and or Architect before fabrication process may commence.
FABRICATION AND INSTALLATION
The Eco-Screen™ LEED supporting paper composite compartments shall be provided by Surfaces Group, LLC in accordance with approved shop drawings and shall be installed in accordance with manufacturer's installation manual.