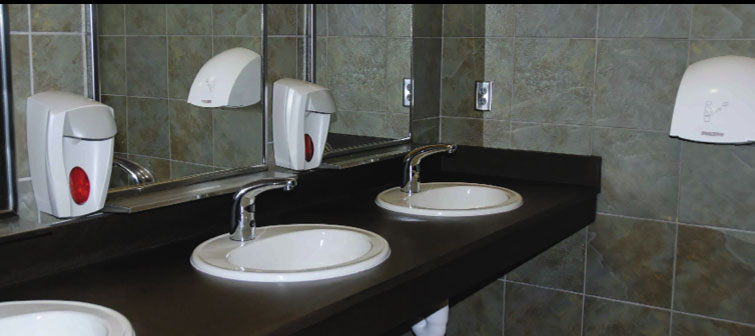 Eco-Screen™ Toilet Compartment — System Technical Specifications
To download a technical document, right-click on link below and select "Save Link As..."
Download: Eco-Screen™ Care & Mainenance

Download: Toilet Compartment - Specification Form

Download: Eco-Screen™ Technical Guide

PARTITION CORE MATERIALS
LEED supporting paper composite panels using post consumer recycled paper that is FSC certified, virgin fibers which have been approved by the SmartWood and the Rainforest Alliance and /or eucalyptus fibers which are rapidly renewable.
NOMINAL THICKNESS
3/4" panels and doors, 3/4" pilasters
COLORS AVAILABLE
Colors Available from FSC certified recycled paper: Chocolate, Gunmetal, Denim, Evergreen,
Cabernet, Mocha, Slate, R50 and R100
Colors Available from FSC certified virgin fiber and Eucalyptus fibers: Leather, Black Diamond, Redstone,
Green Mountain, Yellow Island, Chocolate Glacier, and Blue Canyon
SYSTEM COMPONENTS
Wall Panel(s)
Pilaster(s)
Door(s)
Head rail(s)
Urinal Screen(s)
HARDWARE COMPONENTS
Note: Hardware configuration and application may vary depending upon system design.
Clarification provided in shop drawing schematics after field dimension verification.
WALL PANEL
Two (2) 3/4" full-length aluminum U-channel.
Stainless steel tamper proof through bolts for mounting U-channel to panel.
PILASTER/DOOR
Two (2) cast stainless steel pivot hinges per door/pilaster.
*Left-hand inswing/outswing and right-hand inswing/outswing must be specified.
One (1) stamped stainless steel surface mounted latch-slide per door.
One (1) stamped stainless steel surface mounted strike & keeper per pilaster.
1/4" - 20 stainless steel tamper proof screws used for any exposed hardware mounting.
One (1) steel mounting foot per pilaster.
One (1) stainless 3" high pilaster shoe per pilaster.
HEAD RAIL
Extruded Aluminum.
URINAL SCREEN
(1) Two-ear ¾" aluminum U-channel.